Chiropractic Medicine
Doctor of Chiropractic is a health care profession that is undergoes rigorous training to specialize in disorders of the musculoskeletal system (including but not limited to back pain, neck pain, shoulder or knee pain, headches, herniated disc, sciatica, radiculopathy, numbness or tinling,..) and the nervous system, and the effects of these disorders on general health.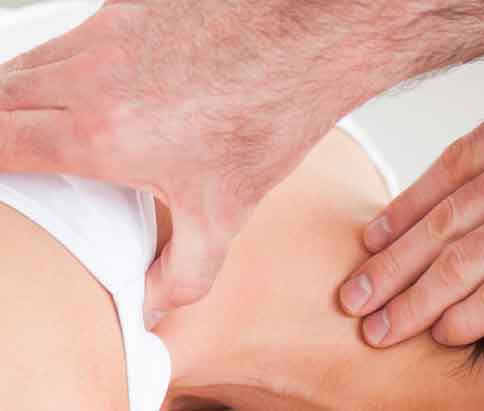 This is a drug-free, hands-on approach to health care that includes patient examination, diagnosis and treatment. Chiropractors have broad diagnostic skills and are also trained to recommend therapeutic and rehabilitative exercises, as well as to provide nutritional, dietary and lifestyle counseling.
The most common therapeutic procedure performed by doctors of chiropractic is known as "spinal manipulation," also called "chiropractic adjustment." The purpose of manipulation is to restore joint mobility by manually applying a controlled force into joints that have become hypomobile – or restricted in their movement – as a result of a tissue injury. Tissue injury can be caused by a single traumatic event, such as an accident or improper lifting of a heavy object, or through repetitive stresses, such as sitting in an awkward position with poor spinal posture for an extended period of time. In either case, injured tissues undergo physical and chemical changes that can cause inflammation, pain, and diminished function for the sufferer. Manipulation, or adjustment of the affected joint and tissues, restores mobility, thereby alleviating pain and muscle tightness, and allowing tissues to heal.
Chiropractic adjustment rarely causes discomfort. However, patients may sometimes experience mild soreness or aching following treatment (as with some forms of exercise) that usually resolves within 12 to 48 hours.
In many cases, such as lower back pain, chiropractic care may be the primary method of treatment. When other medical conditions exist, chiropractic care may complement or support medical treatment by relieving the musculoskeletal aspects associated with the condition.
Doctors of chiropractic may assess patients through clinical examination, laboratory testing, diagnostic imaging and other diagnostic interventions to determine when chiropractic treatment is appropriate or when it is not appropriate. Chiropractors will readily refer patients to the appropriate health care provider when chiropractic care is not suitable for the patient's condition, or the condition warrants co-management in conjunction with other members of the health care team.
Back Pain Facts & Statistics
Although chiropractors care for more than just back pain, many patients visit chiropractors looking for relief from this pervasive condition. In fact, 31 million Americans experience low-back pain at any given time.1
A few interesting facts about back pain
Low back pain is the single leading cause of disability worldwide, according to the Global Burden of Disease 2010.
One-half of all American workers admit to have back pain symptoms each year.2
Back pain is one of the most common reasons for missed work. In fact, back pain is the second most common reason to visit the doctor's office, outnumbered only by upper-respiratory infections.
Most cases of back pain are mechanical or non-organic—meaning, they are not caused by serious conditions, such as inflammatory arthritis, infection, fracture or cancer.
Americans spend at least $50 billion each year on back pain—and that's just for the more easily identified costs.3
Experts estimate that as many as 80% of the population will experience a back problem at some time in our lives.4
What Causes Back Pain?
The back is a complicated structure of bones, joints, ligaments and muscles. You can sprain ligaments, strain muscles, rupture disks, and irritate joints, all of which can lead to back pain. While sports injuries or accidents can cause back pain, sometimes the simplest of movements—for example, picking up a pencil from the floor— can have painful results. In addition, arthritis, poor posture, obesity, and psychological stress can cause or complicate back pain. Back pain can also directly result from disease of the internal organs, such as kidney stones, kidney infections, blood clots, or bone loss.
References:
1. Jensen M, Brant-Zawadzki M, Obuchowski N, et al. Magnetic Resonance Imaging of the Lumbar Spine in People Without Back Pain. N Engl J Med 1994; 331: 69-116.


2. Vallfors B. Acute, Subacute and Chronic Low Back Pain: Clinical Symptoms, Absenteeism and Working Environment. Scan J Rehab Med Suppl 1985; 11: 1-98.

3. This total represents only the more readily identifiable costs for medical care, workers compensation payments and time lost from work. It does not include costs associated with lost personal income due to acquired physical limitation resulting from a back problem and lost employer productivity due to employee medical absence. In Project Briefs: Back Pain Patient Outcomes Assessment Team (BOAT). In MEDTEP Update, Vol. 1 Issue 1, Agency for Health Care Policy and Research, Rockville 

4. In Vallfors B, previously cited.